new horizons - Monolith tour experience
Written By Bob Gordon
After several years of consistent local gigging – occasional pandemic restrictions allowing – Yomi Ship were finally able to experience all that comes with a major national tour in August/September of 2022.  
It wasn't just a regular tour, either. It was the Monolith Festival – headlined and anchored by Karnivool with heavyweight mates COG, plus Ocean Grove, Plini, sleepmakeswaves and Reliqa – all bands at different points in their respective trajectories.   
It was a significant gathering of progressive Australian music and the fact that the headliners and openers are both from Perth added to its resonance. 
Yomi Ship had, in fact, done a mini-tour with Karnivool in 2019 comprising of one show in Adelaide and three in Perth. A real connection was made on that run, so much so that when it came time for curating the full Monolith line-up, Karnivool was decidedly in their corner. Yomi Ship had also played before with Cog and Plini, so it wasn't so much a step into the unknown as a stride into new climes. 
"It definitely was the next step up for us," notes Jarred, "especially into the East Coast side of things." 
According to Nick, in order to make the next step up, Yomi Ship needed to up the game. The instrumental trio would be playing half-hour opening sets and would need to burn in order to capture and hold new audiences. 
"We wanted to be at our best physically and performance-wise," he says. "We created a setlist that wasn't going to change too much - a heavier, meat-and-potatoes set. We had Scott Armstrong, the sound engineer from (popular Perth venue) Badlands come on board. He was already on tour as Karnivool's side of stage monitor guy, and he put his hand up to do our work on the tour as well. He really just wanted to see us do well. We were able to do a full production rehearsal before we flew off, which we hadn't really done before." 
Monolith was originally scheduled for March/April 2022, but due to issues relating to the pandemic – notably WA's border restrictions at the time – the tour was postponed for five months. If anything, what was initially a setback only increased anticipation for the event amongst both bands and the punters.
planes, rains and ubermobiles
Saturday, August 13 – Eaton Hills Outdoors Brisbane 
First cab off the rank and Yomi Ship were met by rain as they arrived for the very first time in Brisvegas. Perhaps some newly-on-the-road jitters surfaced as the PIN number for the band's debit card was forgotten upon arrival at the hotel ("They were really lovely about it," notes Jade) and after that was eventually sorted the realisation that Uber-riding around Brisbane wasn't financially viable set in. 
A new – soon to be national – odyssey of hire cars was about to begin, and it began quite appropriately with a vehicle from Crazy Clark's. They were soon headed to the venue, Eaton Hills Outdoors. 
The trio were the first band to arrive, not surprisingly given they were the openers. As headliners, Karnivool and COG would soundcheck the day before, but on show-day at Monolith dates Yomi Ship would be the only band to soundcheck. 
"It's ironic because we were the only band that didn't run any backing tracks," Nick says. "Every single other band had clicks and backing tracks and everything going, and we like a three-piece instrumental and nothing going on. 
"Once Scott got on the mic and was running us through all the checks it just felt like normal, really. The only difference was this huge stage. We had to finally figure out how we were going to manage our space between the three of us; that was one thing that we had to keep working on over every show… playing those bigger outdoor sorts of stages. We haven't really done it too much." 
As for the first performance, the surreal nature of things had subsided, and the rain didn't' affect their performance.  Playing within half an hour of the gates opening meant that the beginnings of an audience were trickling in. 
"It was raining so everyone had ponchos on," Jade laughs. "And they were all up the front. They were really supportive as well and saying, 'thanks for coming to Brisbane', and that sort of thing. It was a very welcoming crowd."  
"I guess because it was raining no one was on their phone or distracted by anything else," Nick recalls. "They really were just looking at the stage at that point. So we had a lot of attention, a lot of people swaying along and stuff. We had a good reception there to kind of get us ready for the rest of the tour."  
With a week between shows, the band flew back to Perth, sans Jade's pedal board which ended up on a different flight. At the time the news was full of reports about lost luggage as the airlines came to grips with regular flights returning and a lack of staff to deal with it. After a few days the pedal board was located and delivered to Jade's doorstep. Thankfully, it was the only luggage mishap of the tour. 
Saturday, August 20 – Bella Vista Farm Sydney  
"Back in Perth we all had work and uni and stuff like that," Nick says. "So it was just back to normal for a moment and then a switch back into Monolith mode.  As soon as you have to sort out all the logistics, flights and stuff, you switch back to that mindset."  
Persistent heavy rain and flooding in the region meant audience members en route to Bella Vista Farm had to park at an alternative site and commute by shuttle bus to the venue.
The gates opened, the sun came out and a mere 10 minutes later Yomi Ship were performing.  
Nick: "That's not much time for people to get into the venue and all that so Plini gave us a shout-out on his Instagram - 'come down early to watch Yomi Ship'. That was great."   
Jarred: "It was a constant stream of people coming in, but there wasn't a lot of people there when we first started. Like by the end of the set, people were coming in. It was a bit wack that one, because we played so well.."  
Meanwhile, the hire car adventures continued…  
"Driving around in Sydney was a bit brutal. I didn't enjoy it very much. Especially with the SUV… the underpass tolls and going in those underground car parks. I had permanent mental scarring!" - Nick
Saturday, August 27 – PICA Melbourne 
Rather than fly back to Perth from Sydney, the band decamped for a week in Melbourne. Primarily for economic purposes, it was a little break in the midst of the Monolith mindset – the band could drink loads of good coffee, get lost in op-shops and connect with their photographer, Nick's girlfriend Alise Sciano, whose photos accompany this tour diary.   
It was also a perfect opportunity to perform a sideshow at Bar Open in Fitzroy, which allowed Yomi Ship to perform a longer, undulating set of material to an appreciative crowd of locals and Perth fans who had moved to Melbourne. 
PICA is a public event warehouse space in Port Melbourne with a tin roof that Jarred likens to an aircraft hangar.  
"A bit of a soundie's nightmare that one," Nick adds. 
Soundchecks literally rattled the rafters, but things improved somewhat once the venue filled. 
"Melbourne was the first place where we actually met fans. People stopped us to have photos with us. It was nice because the other cities I don't think many people knew about us."  - Jade
Nick: "Melbourne was definitely like a vibe. We hung out a little bit afterwards with Ocean Grove so we started to make connections with them. And there was also a rider in the green room from a wine company that toured with the bands and stuff. There was a tour blogger who looked Jim Morrison who interviewed us straight after we got offstage." 
 Jarred and Jade then headed back to Perth, but Nick remained for a further three days as Alise came down with an ear infection and couldn't fly. 
Nick: "So this adds to the logistical dramas of having booked extra flights and our budget already been kind of like blown out with all the extra sort of shit we've touched on, and the Uber fares…. I don't know what happened there, we got kind of  botched with those in the last couple of days in Melbourne, but you know, it all ended well." 
Next call was the last stop of the tour. "We did three states in three weeks," notes Jarred, "and then we had three weeks off for our own hometown show!"
were you there? leave us a comment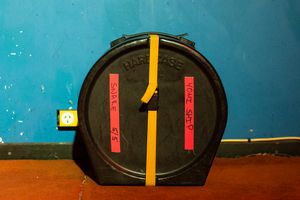 Monolith festival Reviews